Hello, fans and newcomers of Jolly Battle world! Today we are gonna solve you a mystery around creating new thematic packs for Jigsaw Puzzle. We talked to our talented artists how the process goes. And that's what they told us…
Brainstorm
The first step is always about the idea of a new pack with puzzles for the game. The creators gather together and reflect on the aim. Most of the times it is about upcoming national or global celebration or season of the year. For example, Christmastime or Summertime. So, it always depends on what time of the year the certain brainstorm is about. But if the new pack of puzzles doesn't concern a holiday theme, the artists think of what people like in general and what do they want to associate their normal life with. And when the major subjects are chosen, they go to the second step of the work.
Sketches of the story plot
As you may know each pack of puzzles represents a whole new and separate story with its own plot and meanings. So before turning to the drawing our team dwell on the main stages of the story and write the script. At the same they think about the appearance of main characters and create their images and environment of the specific story. And when all the aspects are approved, they move onto the next stage.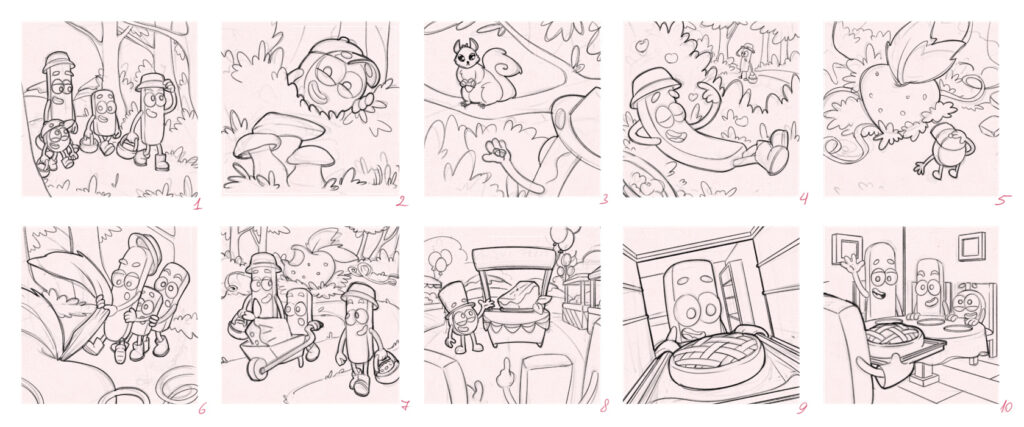 Storyboard
This is where the magic happens as every new pack becomes closer to life. Artists combine script and newly created characters into something resembling creation of moving picture or graphic novel. Each picture follows the next one in order of narration. So, when the team members can trace the plot and understand the story is made, the final step is coming.
Coloring in
We guess it is the most funny and relaxing process of the whole work. All the characters and their world come to live. Artists watch their favorite crumbs become grown-up cakes. Isn't it touching? Every small hand, smile, a leaf on a tree or tower of a sweet castle takes on the color. Each new pack enlarge magnificent collection of stories of Jigsaw Puzzle Game!
So now you know how new packs of puzzles are made! It is always nice and funny action, but also a hard and diligent work. And though our creators are serious professionals, everything they make is making with love and affection to all of our fans and users of Jigsaw Puzzle Game. So, stay with us for more updates!
Don't forget to download update. Brand new thematic packs are already available for Android and iOs!